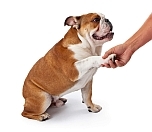 Dogs are a great source of entertainment, home of endless love and something to embrace. All dogs love playing with their owners, so knowing cool tricks to teach your dog can be a perfect way to let him earn your praise and love.
There are hundreds of cool tricks to teach your dog, all of which make it exciting and entertaining to have a dog.
To keep your furry companion mentally stimulated and safe, it's vital to first teach your dog basic tricks, such as stay, sit, lie-down and heel. These 'tricks' are fundamental to training him to learn other, more difficult tricks. Teaching your dog some basic commands will help take the level of affection up to the next level.
How to teach your dog some cool tricks
Teaching your dog tricks not only makes your dog smarter, it makes you the owner of a smart dog. It is not also that difficult; all that you do is begin with simple tricks then advance later to more detailed tricks. It is also exciting to train your dog tricks and show off to friends.
Click Here for the Ultimate Puppy and Dog Training Resources …
However, you have to learn of the cool tricks to teach your dog yourself, before you can trickle them down to your dog. This will make sure you know all the steps that are crucial for your dog to comprehend them well.
Here are some easy tricks to teach your dog
High five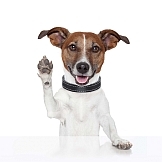 This is one of the most basic tricks that your dog should know. It's incredibly easy to teach your dog how to high five and it's a lovely trick to amuse kids.
To start off, command your pet to sit, and give him a treat to reward him. Then, hold the reward before him but slightly out of his reach. Mention the words "high five" while tapping on his paw.
Most dogs will respond by raising one foot to touch the treat you're holding. As soon as he raises his paw, tickle the bottom of the foot to make him lift it higher. Repeat the command gently and firmly while you repeat the process.
Some dogs will ultimately be able to do this trick on their own. Just commanding him to sit and then lifting your hand before him can get him to high five you.
Army crawls
This is one easy trick for your dog.  Additionally, it ensures the physical fitness of your dog. Start by commanding your dog to lie down, and then hold a treat before him. He will crawl toward the offer and after he has done it for a short distance, give him the gift.
Next time, make him crawl further, and then further each time. If he stands up, remove the treat and start all over again. When the trick is well rooted in your poodle, command him to lie down at least 10 feet away from you and crawl toward you. This is one of many cool tricks to teach your dog.
Dog dance
This is a trick for smaller dog, however, big dogs can also be encouraged to learn it and with time, it will become normal. From a sitting position, raise a treat slowly above your dog's head.
Repeat a command such as 'spin' or 'dance' until he rises up on his hind legs. You might have to hold the treat above the nose and spin it in circles.
In time, this will get exciting and your dog will be doing it with little supervision. This is yet another of the cool tricks to teach your dog.
Retrieving items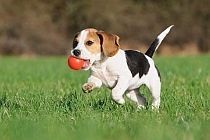 This entails the dog going and getting an item that you need and delivering it to you. It could be a ball, a stick, your newspaper, or a beer from the fridge (joking).
Some dogs, like our Freddy, just love to retrieve. It comes very naturally to him.
Take your hound to an open space and throw an item in the air; tissue papers are often a good way to start. By nature, the pooch may go for the item.
However, if it fails to do so, walk over with your dog holding the treat and point to the item that you want your dog to collect. Point at the item to be picked up and as soon as he grasps it, offer the treat.
After this, offer the treat to your dog only after he has brought back the item. In time, it will be easy for him to follow instructions given.
That was the tricky bit for us – getting Freddy to release or drop the item and back away, so we could retrieve it without risk before we threw it again. He loves (is obsessive about) chasing and retrieving a ball or a stick and it is a fantastic and fun way to exercise him.
But we had to teach him that until he dropped it and backed off, the game was over. We would just turn our backs and even walk away until he dropped the item and backed off. His reward would be to chase the ball again, and again.
When he just lies down and keeps the ball to himself we know he has had enough. Then he's happy to go home.
Roll over
This may call for a little more effort, but it is well worth it, as it is the basis of other tricks that a dog may have to learn. All that you do is command the dog to lie flat, and it is natural that it can roll over. You can then offer a treat to the poodle from his other side when it is in such a position. When the dog has learnt this, it will be natural for him to roll over when commanded.
Nevertheless, it's crucial to know that any of the cool tricks to teach your dog mentioned above require diligence and patience. It is also important to start on the less difficult tricks before moving to the complicated ones, however, when your fog has mastered any of the above-mentioned tricks. You can be sure you will enjoy showing off your pet.
Freddy and I hope we have answered your question 'how to teach my dog some cool tricks?'
If you liked this post, subscribe to our newsletter and get loads more!
Click Here for the Ultimate Puppy and Dog Training Resources …
You'll be so glad you made the effort, and you'll have a much better friend.

Freddy says 'Woof!'