The Dog Training Mastery Multimedia Package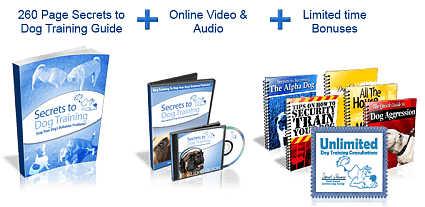 This Dog Training Mastery package brings the most popular dog training and dog health-care products from Kingdom of Pets bundled together for a very reasonable price.
Note also that you can also purchase the separate components if you are only interested in part of the package (see links at the bottom of the review).
| | |
| --- | --- |
| You get everything you need to: | It includes: |
| Improve your dog's obedience | |
| Resolve your puppy's potty training | |
| Learn about and take care of your dog's health needs. | |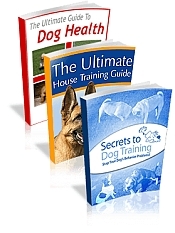 The three major components of the package are:
Secrets to Dog Training: Stop your dog's behaviour problems eBook

The Ultimate House Training Guide eBook

The Ultimate Guide to Dog Health eBook
Plus, there are online videos dealing with everything from food aggression to barking problems, and several useful bonus eBooks as well!
*Note: All components are also available separately via links at the end of this review.
You also have unlimited access 24/7 to the Members' Only forum where you can ask and find specific solutions related to your own dog.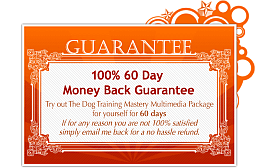 And, there is a "No-Risk 60 Day Instant Money-Back Guarantee".
Because you can take up to 60 days to examine and use the dog house training information, tips, and techniques in "The Dog Mastery Multimedia Package".
If you're not satisfied for any reason, or the package is not up to your expectations, you can claim a full refund. So there's no-risk, and nothing to lose.

Click Here for "The Dog Training Mastery Multimedia Package"
Let's consider the 3 major components in detail …
1. Secrets to Dog Training – Stop your Dog's Behavior Problems!
What Is It?
This eBook takes a detailed look at both preventing and dealing with the most common dog behavior problems. The level of detailed knowledge in this eBook is particularly thorough and extensive.
And, the information is completely reliable. Because it's written by an experienced dog trainer, Daniel Stevens, and you can be assured that the tips and advice are tried and tested. They come from his real-life experiences as a professional dog trainer.
What's Covered?
You'll find an impressive range of information in this guide, and it's not just problem behaviours that are covered.

First – it's got new-owner advice:
How to choose a puppy/dog

The best places to get a puppy/dog from

Breed information

Puppy/dog-proofing your home
Second – it covers more advanced issues.
Behavioral problems

Aggression

Dominance

Separation anxiety
Next – intermediate level
Obedience commands

Health-related dog problems

Allergies

Cat/dog coexistence

Fleas, and so on …
Finally, some advanced commands and tricks to teach your dog.
2. The Ultimate House Training Guide
This is an extensive guide to the most common, misunderstood, dreaded, difficult, and frustrating problem that needs to be addressed by all dog-owners: housebreaking your dog.
The problem is that theories on this topic abound. You will come across conflicting arguments almost everywhere you look on this matter, whether online, at the library, and even through dog trainers.
So What Sets This Book Apart?
"The Ultimate House Training Guide" eBook, by Martin Olliver, a veterinarian, covers all aspects of housebreaking in a very easy-going manner. And the tone is friendly, informative, and above all, full of common sense. So it's easy to see he knows what he is talking about.
What's Included?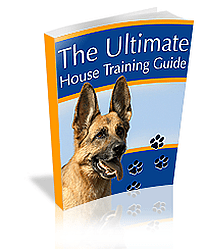 First, there's a section on the tools of the trade needed (namely, consistency, patience, persistence, and common sense) along with how to keep calm during the training process.
Then comes the nitty-gritty details on how to house-break, including detailed sections for pups, and also for older dogs for the three methods recommended; paper-training, crate-training, and the direct method.
Health-related problems are also covered. There's a section on:
Congenital problems (those your puppy or dog was born with)

Disease-related problems that can develop as your puppy grows older, and

Other related problems like grass-burn caused by urination.
Martin summarizes with his Top 10 Tips for hassle-free housebreaking. This is a recap of the most helpful and important attitude adjustments, some practical tips and very handy general nuggets of knowledge.
It's Very Detailed, So Is It Confusing?
It's actually very user-friendly, packed with sound practical advice, and laid out in a very easy-to-understand format with helpful 'how-to' illustrations.
3. The Ultimate Guide to Dog Health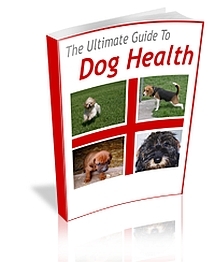 Knowing when to take your dog to the vet is sometimes a very tricky decision to make. After all, unfortunately, your dog can't tell you when he needs professional care.
And, as we all know, veterinary costs can be very expensive. So paying $80 or more for an unnecessary vet visit is annoying to say the least. On the other hand, no loving dog-owner wants their dog to suffer!
Stress-Free Dog Care
So I was very excited to read "The Ultimate Guide to Dog Health", by Malcolm Fields. Because it's complete and detailed, and covers all the most common health problems dogs suffer from.
The most important thing I needed to know was:
How can I judge the seriousness of my dog's problem, so I can decide when to take my dog to the vet?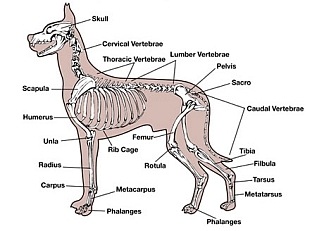 The focus is on being prepared and taking preventative action. It teaches you how to self-diagnose accurately with the help of diagrams and easy flowcharts. So the many detailed symptom charts help owners make informed decisions about the need for professional attention.
Each chart starts with the specific symptoms of each ailment and you just follow the flowchart path depending on your dog's symptoms. So this chart gives you the recommended treatment and advice on whether veterinary care is needed, and how urgently.
Veterinarians and other well-trained dog-care specialists offer knowledge and good advice, and it's very reader-friendly.
In summary, it is a valuable, detailed, comprehensive, information rich,and valuable introduction to canine health care, allowing you to take really good care of your dog.
Free Gifts
And, what's more, "The Dog Training Mastery Multimedia Package" includes many useful free gifts.
First, you get the three manuals on training your dog; preventing and handling behavioral problems, housebreaking, health care, and lots of general-knowledge tips and advice.
And, you also get 11 other gifts:
The Secrets To Dog Training audio book

The In-field Training Videos

The Premium Online Videos

The Ultimate Guide to Dog First Aid

Meals for your Dog: 175 Gourmet Recipes

101 Ways to Spoil your Dog for Under $10

Secrets to Becoming the Alpha Dog

The Quick Guide to Dog Aggression

Dog Grooming Made Easy

Tips on How to Security Train your Dog

Top 20 Consultations
In Summary
Overall, this is an impressive and a good value-for-money package.
Many of the techniques are refreshingly common-sense and down-to-earth. Others need more effort (like dog whispering for example) but do provide some amazing results once mastered. And, you can choose the ones that best suit you and your dog. Because often, more than one technique is offered.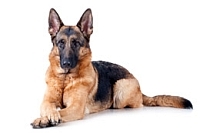 Therefore, I happily recommend this package (or any of it's separate components) to all current or "about-to-be" dog owners. Because all dogs need to learn the right way to behave – it's not just about solving problems. So, if you teach them good habits from the start, there may be no problems to solve!
In fact, I believe all puppy and dog owners will find this information useful.
Freddy and I hope you enjoyed our review of "The Dog Training Mastery Multimedia Package" from Kingdom of Pets.

If you liked this product review, subscribe to our newsletter for more!
Click Here for "The Dog Training Mastery Multimedia Package"
Or, for the three separate components:
Click Here for "Secrets to Dog Training eBook"
Or, Click Here for "The Ultimate House Training Guide eBook"
And, Click Here for "The Ultimate Guide to Dog Health eBook"
You'll be so glad you made the effort, and you'll have a much better friend.

Freddy says 'Woof!'