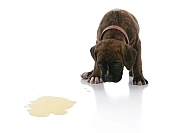 Learning how to potty train a puppy is one of the first things you need to begin before your new puppy arrives home.
Watching your little munchkin grow up to be a full-grown dog is one joy you can never exchange for anything. He brings you so much laughter and pleasant surprises in many ways you wouldn't mind redoing those puppy days.
But, short of getting a diaper for your puppy, there is no foolproof plan to stopping him from soiling your house. Thankfully, you can always get him to learn that he needs to keep his living area free of poop or pee.